Main content starts here, tab to start navigating
Slide 1 of 4
Slide 2 of 4
Slide 3 of 4
Slide 4 of 4
Rosh Hashanah 2021
For A Good Year
Clementine has everything you need for a festive and delicious holiday celebration! Rosh Hashanah begins sundown Monday, September 6th. Holiday items are available by advance order, for pickup beginning Saturday, September 4th through Tuesday, September 7th. We will be closed on Sunday, September 5th.
Please order as soon as possible (and at least 48 hours in advance) to ensure availability of your desired items and pickup time slot. We will stop taking orders when we reach capacity.

Have questions or need help planning your menu? Our fabulous catering team is here to help! Call 310.552.1080 extension 5, or email to catering@ClementineOnline.com.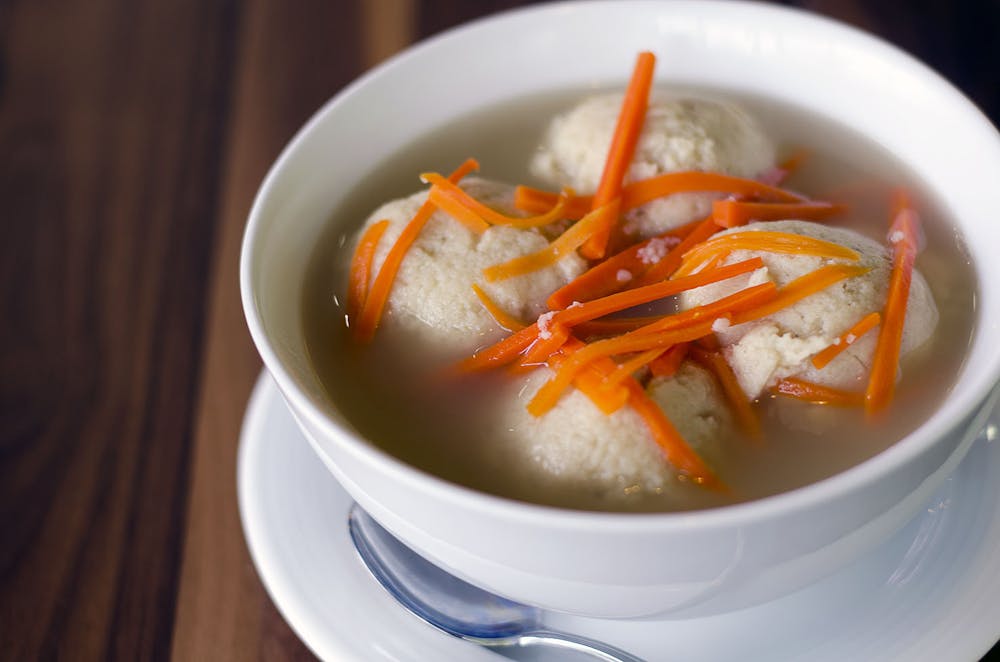 All items are intended for heat-at-home and come with storing, heating and serving instructions.
HIGH HOLIDAYS STORING, HEATING AND SERVING INSTRUCTIONS DOWNLOAD PDF
Need to order for Yom Kippur?
Click the button below!

Download PDF
Holiday Dinner Package
Starters
Choose 1
Matzo Ball Soup
Vegan Split Pea Soup vegan
Crudites with Hummus vegan
Choose Two Mains
Choose 2
Braised Beef Brisket
1/2 Roasted Free-Range Chicken with Lemon & Thyme
Braised Whole-Roasted Chicken Leg with Apricots & Prunes
Poached Wild King Salmon with Shallot Creme Fraiche
Freekeh with Braised Leeks and Mushrooms vegan
Holiday Sides
Choose 2
Roasted Sweet Potatoes, Carrots & Leeks vegan
Radicchio, Arugula and Endive Salad with Dates & Salty Toasted Pepitas vegan
Roasted Fingerling Potatoes with Caramelized Shallots & Slow-Cooked Tuscan Black Kale vegan
Oven-Roasted Sweet Peppers with Pomegranate Vinaigrette and Toasted Walnuts vegan
Mashed Potatoes
$75 | serves 2-3
Dessert Add-Ons:
Sally's Noodle Kugel $6.50/slice
Rugelach - Chocolate Chip or Apricot, Date & Walnut - $1.35/each
6-inch Apple-Dapple Cake $11.95
6-inch Honey Cake $10.95
Small Classic Apple Pie $16.95
Holiday Traditions
Classic Matzo Ball Soup

Rich chicken broth with tender, delicious matzo balls and julienned carrots. Each quart comes with four medium-sized matzo balls.

quart | serves 2-3 | $16.95

Challah

traditional round, with or without raisins

traditional round $11.50
Holiday Entrées
Braised Beef Brisket

First cut brisket braised until meltingly tender, then sliced and re-assembled. Packed in a roasting pan with its own gravy, ready to heat and serve.

individual | serves 1-2 | $16.95

family | serves 3-5 | $38

Free-Range Whole-Roasted Chicken

Locally produced and incredibly fresh, it is free-range, hormone - and - antibiotic-free. Simply roasted with lemon and thyme. Serves 2-3.

$22

Poached Wild King Salmon

with fresh herbs, lemon zest and shallot crème fraiche.

5 oz. serving | $17.95

per pound | $48
Hors D'Oeuvres and Small Bites
Cheese Assortment

a delicious assortment of fine domestic and imported cheeses arranged on a wicker basket tray with dried fruits

mini | serves 2-4 | $28

small | serves 6-8 | $58

medium | serves 12-16 | $88

large | serves 18-24 | $124

Spiced Nuts

perfectly sweet, spicy and salty with rosemary.

half-pound $11.95

Rustic Onion Tart

Delicate, flaky pastry topped with caramelized onions, roasted cherry tomatoes, olives and feta.

large (serves 12-16 as an hors d'oeuvres) $32

Crudite Platter

a beautiful array of the freshest vegetables with your choice of dips. choose from: hummus, romesco, caramelized onion, sun-dried tomato, pimento cheese, or blue cheese

mini plate with one dip | serves 6-8 | $24

small plate with one dip | serves 12-16 | $46

large plate with two dips | serves 18-24 | $68

Cold Dips

caramelized onion, sun-dried tomato, romesco or pimento cheese

pint $7.95

hummus half-pint $5.95

add a bag of crostini $4.25

Deviled Eggs

A Clementine favorite and very elegant with radish and chives

each $1.50

dozen $16

Baked Macaroni & Cheese

cheesy and bubbly... loved by all ages!

half-dozen | frozen bake-at-home | $12

Mini Chicken Pot Pies

half-dozen | frozen bake-at-home | $15
Specialty Salads & Sides
A Green Vegetable

haricot verts with brown butter, lemon and a touch of whole grain mustard – all you have to do is sauté and serve.

Small | Serves 2 $12.95

Large | Serves 8-10 $32

Honey-Glazed Carrots

Oven-roasted to perfection with sweet onions.

small | serves 2-3 | $10.95

large | serves 8-10 | $30

Roasted Fingerling Potatoes

with Caramelized Shallots & Slow-Cooked Tuscan Black Kale

Small | $10.95

Large | $30

Middle-Eastern Pepper Salad

Oven-roasted sweet peppers with pomegranate vinaigrette and toasted walnuts

8oz. | $6.25

16oz. | $12.50

mini | serves 6-8 | $36

small | serves 12-16 | $58

medium | serves 18-24 | $78

large | serves 28-36 | $99

Carrots & Crunchy Greens

Roasted sweet carrots, bok choy and watercress, with ginger, cumin and lime

8oz. | $5.95

16oz. | $11.95

mini | serves 6-8 | $36

small | serves 12-16 | $58

medium | serves 18-24 | $78

large | serves 28-36 | $99

Edamame & Wild King Salmon

with scallions and fresh herbs

8oz. | $6.50

16oz. | $12.95

mini | serves 6-8 | $38

small | serves 12-16 | $62

medium | serves 18-24 | $82

large | serves 28-36 | $108

Egg Salad

with a touch of red onion

8oz. | $6.50

16oz. | $12.95

mini | serves 6-8 | $36

small | serves 12-16 | $58

medium | serves 18-24 | $78

large | serves 28-36 | $99

Tuna Salad

8oz. | $6.50

16oz. | $12.95

mini | serves 6-8 | $36

small | serves 12-16 | $58

medium | serves 18-24 | $78

large | serves 28-36 | $99

Seasonal Fruit Salad

with the freshest fruits of the season

8oz. | $5.25

16oz. | $10.50

mini | serves 6-8 | $34

small | serves 12-16 | $56

medium | serves 18-24 | $76

large | serves 28-36 | $98

Grilled Vegetable Platter

A beautiful assortment of grilled market vegetables.

mini | serves 5-7 | $28

small | serves 8-10 | $42

large | serves 15-18 | $64
Garden Salad Bowls
Radicchio, Arugula & Endive Salad

with dates and salty toasted pepitas [vegan]

small | serves 6-8 | $42

medium | serves 12-16 | $60

large | serves 18-24 | $80

Baby Greens Salad

Simple mixed greens and whole grain croutons with balsamic vinaigrette [vegan]

individual | serves 1-2 | $8.50

small | serves 6-8 | $22

medium | serves 12-16 | $28

large | serves 18-24 | $40

Greek Salad

Romaine with feta, hearts of palm, chickpeas, cucumbers, and olives with oregano vinaigrette

individual | serves 1-2 | $14.50

small | serves 6-8 | $42

medium | serves 12-16 | $60

large | serves 18-24 | $80

Súper-César Salad

Romaine and super greens with garlicky Parmesan dressing, shaved Parmesan, and croutons.

individual | serves 1-2 | $10.50

small bowl | serves 6-8 | $26

medium bowl | serves 12-16 | $42

large bowl | serves 18-24 | $60
HolidaySweets
Honey Cake

Moist, tender cake topped with a spiced honey glaze and gift-wrapped

6" Loaf | $10.95

9" Loaf | $16.95

Sally's Noodle Kugel

with sour cream and plump flame raisins, topped with graham cracker crumble

slice $6.50

large | serves 4-6 | $32

Rugelach

with apricot, date & walnut /or/ chocolate chip

each $1.35

Apple-Dapple Cake

Rich cake studded with tart apples and topped with caramel glaze and gift-wrapped

6" Loaf | $11.95

9" Loaf | $16.95

Classic Apple Pie

Loads of luscious and tender apples in our impossibly flaky pie crust. Baked and ready to serve.

small | serves 1-2 | $16.95

large | serves 6-8 | $40

Bake-at-Home Apple Pie

Our Classic Apple Pie -loads of luscious and tender apples in our impossibly flaky pie crust, but frozen with instructions included to bake in your own oven. Nothing makes a home cozier than the scent of apple pie fresh out of the oven!

Small | Serves 1-2 $16.95

Large | Serves 6-8 $34

Bake-at-Home Rugelach

Our classic rugelach, just frozen--with instructions included to bake in your own oven! Fillings: Apricot, Date & Walnut - or - Chocolate Chip

10 Pack Container | $12.95

Banana Cream Pie

small | serves 1-2 | $12.95

large | serves 6-8 | $30

Key Lime Pie

small | serves 1-2 | $12.95

large | serves 6-8 | $30