Main content starts here, tab to start navigating
Catering Manager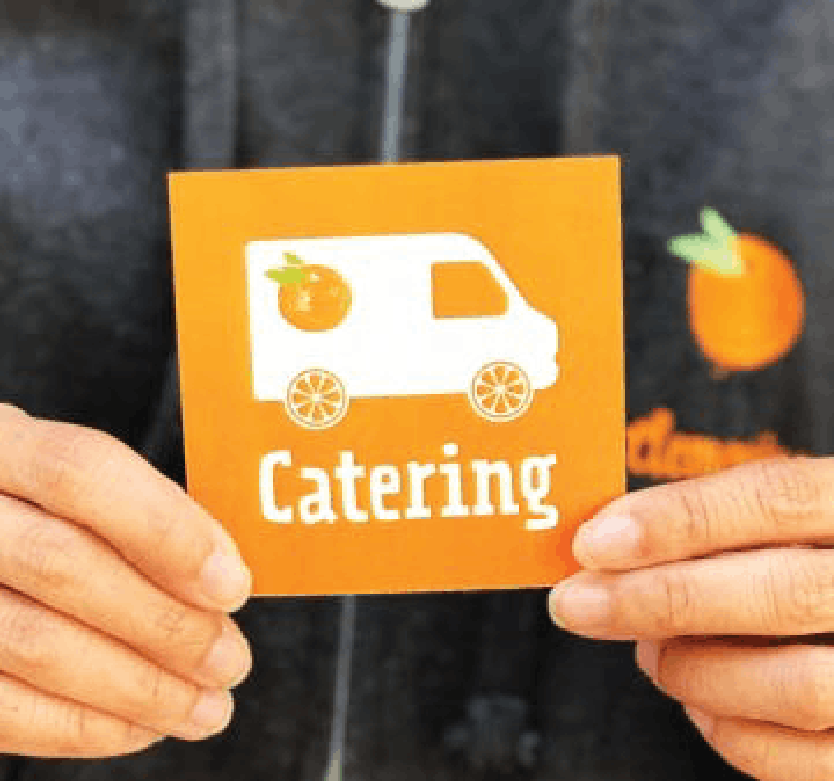 We are looking for a friendly, motivated, hardworking, and savvy Catering Manager to join our Clementine team! We are a well-established neighborhood bakery-cafe with a substantial catering business in Century City and beyond.

The Catering Manager we're seeking will maintain and nurture relationships with our established clients and work to grow the business and add new clients. The ideal candidate enjoys the brisk pace of a busy restaurant, loves engaging with customers, acclimates to any situation and can troubleshoot at a moment's notice. Must be a self-starter, multitasker, great communicator and focused leader. The Catering Manager is responsible for a small team of catering assistant(s) and delivery drivers. Our catering is drop-off only, for offices and individuals, rather than on-site catering or event planning.

This is a full-time, daytime position based out of our Century City-area restaurant. Parking is a major challenge and our offices are cramped and windowless. But we are kind and warm, fun and authentic. We will ply you with good things to eat and get you out in time to have a life.
Catering Manager's responsibilities include, but are not limited to:
Ensuring excellent customer service, accuracy, and efficiency of orders.

Maintaining current accounts and growing new accounts through effective outreach and marketing.

Hiring, scheduling, training and supervising the catering office team as well as the delivery drivers.

Communicating with (and facilitating communication between) the various departments within the restaurant (e.g., kitchen, pastry, front-of-house).

Handling client concerns/issues - in person, on the phone, and via email.

Handling employee issues as they arise, with professionalism and basic understanding of HR principles.

Preparing and delivering performance evaluations for members of the catering department.

Reviewing, correcting and approving timecards.

Training front-of-house servers on how to take catering orders, and how to cover/troubleshoot in the catering manager's absence.

Maintaining and updating menus and production mapping on our cloud-based catering platform, including holiday and event menus.

Conduct regular meetings/huddles with the catering team.

Analyze and report on catering sales trends, forecast by quarter.

Verify successful processing of daily payments.

Ensure house accounts remain in good standing.

Work closely with management team to maintain a cohesive work environment.
Job Requirements:
Minimum 2 years of management experience
Minimum 5 years of customer service experience
Proficiency with Google Sheets, Docs, navigating/formatting on cloud-based platforms
Bilingual (Spanish/English) a plus
ServSafe certification
Must be able to lift up to 35 lb
Open availability Monday - Saturday
Pay & Benefits:
$25-$35/hour
Paid Time Off
Health, vision, & dental
401K
Free Lunch
Metro/Tap card reimbursement
Closed Christmas Day through New Year's Day
Open to alternative schedule (e.g., 4 day week).
Morning Baker/Panadero de la Mañana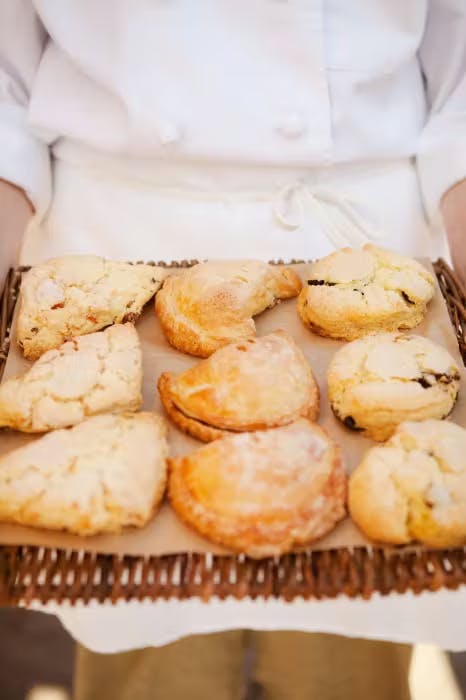 We are looking for Morning Bakers to join our pastry team
(Versíon en Español abajo)
Compensation: $18 - $22 per hour depending on experience. Some professional baking experience preferred, however we prioritize kindness, reliability and eagerness to learn.
Full-time and part-time positions available. Morning baker shift is typically 2am-10am.
Responsibilities Include:
Preparing recipes for a wide variety of goods including scones, muffins, cookies, cakes, pies, custards & more, while adhering to health and safety standards to provide clients with the best possible experience.

Perks/Benefits include:
Paid time off
Free meals
Health/Dental/Vision
Employee discount
Metro Pass reimbursement
Closed Sundays
Closed Christmas Day through New Years' Day
Job requirements include:
Food Handler's Card
Fully vaccinated (& boosted, as applicable)
Flexible availability, Saturdays a must
______________________________
Estamos buscando Panadero para unirse a nuestro equipo de pastelería.

Compensación: $18 - $22 por hora dependiendo de la experiencia. Se prefiere alguna experiencia profesional en panadería, sin embargo, priorizamos la amabilidad, la confiabilidad y las ganas de aprender.

Posiciones de tiempo completo y medio tiempo disponibles. El turno de panadero de la mañana suele ser de 2 am a 10 am.
Responsabilidades incluyen:
Preparar recetas para una amplia variedad de productos, incluidos bollos, muffins, galletas, pasteles, tartas, natillas y más, respetando los estándares de salud y seguridad para brindar a los clientes la mejor experiencia posible.

Las ventajas/beneficios incluyen:
tiempo libre pagado
Comidas gratis
Salud/Dental/Visión
Descuento para empleados
Reembolso del pase de metro
Domingos cerrado
Cerrado desde el día de Navidad hasta el día de Año Nuevo

Los requisitos del trabajo incluyen:
Carnet de manipulador de alimentos
Completamente vacunado (y reforzado, según corresponda)
Disponibilidad flexible, sábados imprescindibles
Buscamos Auxiliar de Pastelería para preparar variedad de postres, bollería u otros dulces, con o sin experiencia.
Deben cumplir con los estándares de salud y seguridad para brindar a los clientes el mejor servicio posible.
El objetivo es mejorar la satisfacción del cliente para que podamos mantener y ampliar nuestra clientela.

Responsabilidades
Prepare una amplia variedad de productos como pasteles, galletas, tartas, pan, etc. siguiendo recetas tradicionales y modernas.
Crear postres nuevos y emocionantes para renovar nuestros menús y despertar el interés de los clientes

Decore los pasteles con diferentes glaseados, coberturas, etc. para asegurarse de que la presentación sea hermosa y emocionante.

Controle las existencias de ingredientes para hornear, como harina, azúcar, etc., y realice los pedidos correspondientes dentro del presupuesto.

Verifique la calidad del material y el estado de los equipos y dispositivos utilizados para cocinar

Gran atención al detalle y creatividad.

Indemnización: Seguro médico, vision y dental, comida gratis de la casa y pase de autobús gratis
Tipo de empleo: tiempo completo / medio tiempo
Debe estar completamente vacunado
Counter Servers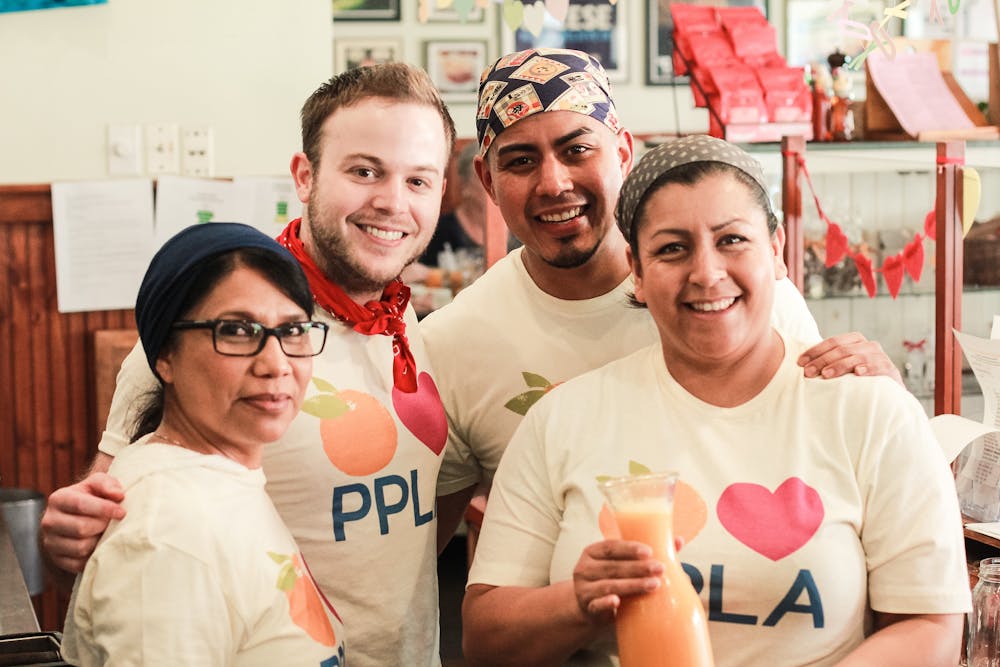 We are looking for friendly, energetic servers to join our Clementine team. Part-time and full-time positions available, with opportunities for advancement.
Compensation: starting at $16.04 plus tips (typically $10+ per hour)
Our hours are 8am-5pm Monday through Saturday, and we are closed on Sundays.

Perks/Benefits include:
Paid time off
Free meals
Health/Dental/Vision
Employee discount
Metro Pass reimbursement
Nights and Sundays off
Closed Christmas Day through New Years' Day
Job requirements include:
Food Handler's Card
Fully vaccinated (& boosted, as applicable)
Flexible availability, Saturdays a must